written by Delphine, age 12 years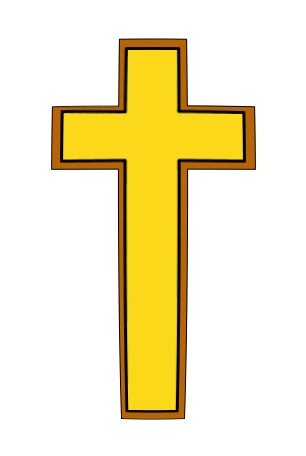 Bonjour! Je m'appelle Delphine!
1.

The French word for Easter is

Pâques.

To wish someone a 'Happy Easter' you can say

Joyeuses Pâques

or

Bonnes Pâques.





2.

If a baby is born around Easter-time, then the name chosen for the baby might be

Pascal

, meaning 'belonging to Easter'. My little sister was born on Easter Day and that is why she is called

Pascale

!



3.

Just before Easter, there is the fasting period of Lent -

le Carême

.

Le Carême

is a way of saying 'forty days'.

The first day of Lent is Ash Wednesday

-

le Mercredi des Cendres

.

During

le Carême

people prepare for Holy Week -

la Semaine Sainte.
4.

The first day of

la Semaine Sainte

is Palm Sunday -

le Dimanche des Rameaux.

The word

rameaux

means 'branches'. This is the day when we remember the story of how

Jésus

rode into

Jérusalem

and the people greeted Him by laying palm leaves on the ground for Him to walk on.

On this day we carry little bunches of green branches -

rameaux

- to church so that the priest will bless them. The branches can be made from palm leaves, olive trees, laurel, rosemary. It all depends upon the plants that are easy to find in the area where you live.
In my family,

Maman

cuts little branches from the laurel bushes in our garden and we carry those to church.

There are some very artistic people who make wonderful braids and shapes with palm leaves. These are called

les palmes tressées.



Palm Sunday is also known as

Pâques Fleuries,

meaning 'Easter in blossom', because of all the lovely plants and leaves.
5.

During

la Semaine Sainte,

there are

des processions

in many towns. We have the processions in order to commemorate the death of

Jésus

and the events leading up to

La Crucifixion

. The most well-known processions take place on Good Friday -

le Vendredi Saint.

This is the day when the Crucifixion of Jesus is commemorated. A procession that takes place on this day is called

le Chemin de Croix

- the words mean 'the Way of the Cross.'

Lots of families go to church during Holy Week. In French, the church is

l'église

.
6.

Le Jeudi Saint

- Holy Thursday - is the day when we think about

la Cène

- the Last Supper of Jesus with His disciples.

On the evening of

le Jeudi Saint

something very strange and special happens! All the church bells in France fly away to Rome!

C'est bizarre!

These flying bells are known as

les cloches volantes.
Question:

How do the bells do this?




Réponse:

The grown-ups tell the children that wings suddenly appear on the bells.





Question:

Why do the bells do this?




Réponse:

The grown-ups say that the bells fly to Rome to visit the Pope -

le Pape.

During their visit, they are blessed by

le Pape

and collect chocolate goodies to give to French children.

This means that all the church bells in France remain silent! No bells are heard because they have all flown away to Rome.
The bells fly back to France early in the morning of Easter Day!

This happy day is

le Dimanche de Pâques.

As the Easter bells -

les cloches de Pâques

- fly back, they drop chocolate goodies into the gardens of the French towns.
7.

Some French children prepare nests in their gardens and houses. The nests -

les nids

- are for the Easter bunny who will fill them with chocolate eggs when he arrives during the night.

My little sister leaves out carrots for the bunny in case he is hungry.

He is called

le lapin de Pâques

or

le lièvre de Pâques.
8.

When we wake up on Easter Day -

le Dimanche de Pâques

- usually someone will call out -

Les cloches sont passées!

-

meaning that the bells have visited.



The children have great fun finding the hidden goodies left in the nests by

le lièvre de Pâques

or

scattered by

les cloches de Pâques -

the Easter bells! This egg hunt is called la chasse aux œufs.

Les cloches sonnent à nouveau! The church bells ring again because they have returned from Rome and are celebrating the Resurrection of Jesus! -

l

a Résurrection de Jésus

!
9.

There is another traditional game that French children play at Easter. It is a game of 'catch' but instead of a ball we use raw eggs! It is called

le lancer d'œufs.



We throw and catch -

un

œuf cru -

a raw egg - between partners until someone drops it. That person will be

le perdant

- the loser and will be 'out' -

éliminé.





Voici la règle du jeu:




Here are the rules of the game:





1. Les enfants forment deux rangées qui se font face.




The children stand in two lines facing each other.




2. Chaque enfant d'un côté lance un oeuf cru à son partenaire d'en face.




Each child on one side throws a raw egg to their partner opposite.




3. Les enfants qui cassent un œuf sont éliminés.




The children who break an egg are 'out.'




4. Le jeu se répète jusqu'à ce qu'il ne reste qu'un œuf intact.




The game is repeated until there is only one egg intact.




5. Ces deux partenaires gagnent la partie!




These two partners win the game!




6. L'œuf intact est considéré l'œuf vainqueur et il apporte la bonne fortune.




The intact egg is considered the winning egg and it brings good fortune.
10.

There is something else that is very important in France at Easter.
It just so happens that April Fools Day, on 1st. April, occurs around the time of Easter.

On this day, French children play a trick on as many adults as possible by sticking paper fish onto the grown-ups' backs and running away.
Every time that we manage to trick a grown-up, we run away shouting -

Poisson d'avril!

- meaning 'April fish!'
11.

In France, April fish are also an Easter symbol and that is why you will find chocolate fish in the shops too!